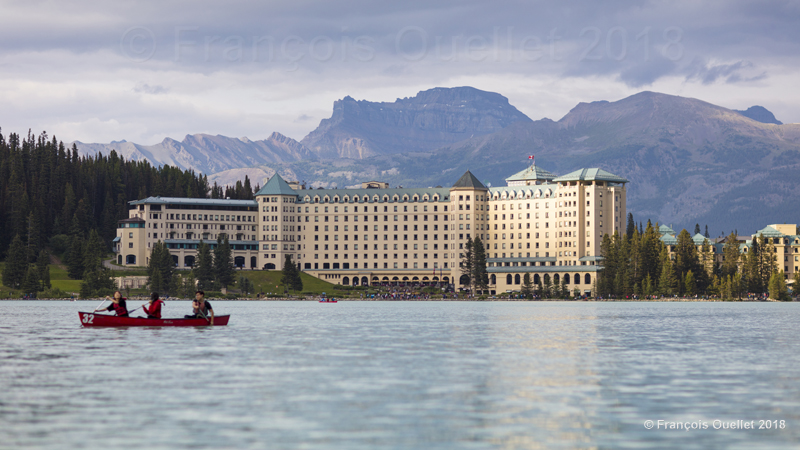 The picture above shows Château Lake Louise and, in the background, Mount Richardson. Lake Louise is in Alberta but only a few kilometers from British Columbia.
This picture was taken during summer 2018 while several forest fires were raging in western Canada. Luckily for us, the smoke had not yet reached Lake Louise when the picture was taken. A few days later, the visibilty worsened and the air quality in the area degraded considerably.
At the time of the picture, the sky was cloudy and I had to wait for the sky to clear in order for more intense sunrays to light part of Château Lake Louise. This provided a greater contrast between the hotel and the mountains in the background.
I thought it was appropriate to keep the canoe with its passengers to add dynamism to the scenery. The photographic composition was planned so as to include the reflection of the bright part of the hotel on the lake.
In order to make an acceptable picture at this time of the day while sitting in a canoe, I used a Canon EF85mm f/1.2L II USM lens mounted on a Canon 5DSR camera. The outstanding performance of the lens in low light allowed me to keep the ISO at 200, thus limiting the photographic grain.
The shutter speed was adjusted to 1/5000 to compensate for the movement of my canoe and the effect of the wind. It seemed to me that for this particular landscape picture, a 16 x 9 format was better suited than the traditional 3X2 associated with full frame sensors.
For other pictures of Canada, click on the following links in my blog:
Other Provinces and Territories of Canada Photos