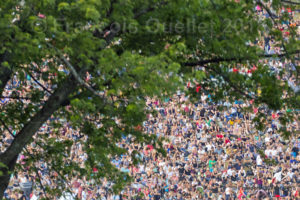 The Quebec  Summer Festival draws huge crowds every year to each one of its shows. I decided to use the crowds to compose a photo in which there are only two subjects. In the foreground, one of the trees on the Plains of Abraham.  I use the tree to create a diagonal that crosses the picture and, at the same time, helps balance the colours in the picture.
In the background, the crowd,  without any other distraction. The people fill every available corner of the picture. They are the ones bringing the picture to life. It is also because of their presence every year that the Quebec Summer Festival is a success.
The picture was taken with a Canon 5DSR camera equipped with a Canon 70-200 f2.8L IS II USM lens. The focal length was 200mm and the shutter speed 1/250. Despite a 200mm focal, the people were still too far to be clear enough.
The goal being to crop the picture enough to enlarge the people, the ISO had to be quite low. It was set at 640. Once those priorities were established, the aperture could only be set at 5.0, which was good enough for the result I was trying to obtain. The 50.6 megapixels full frame sensor of the Canon 5DSR helped a lot.